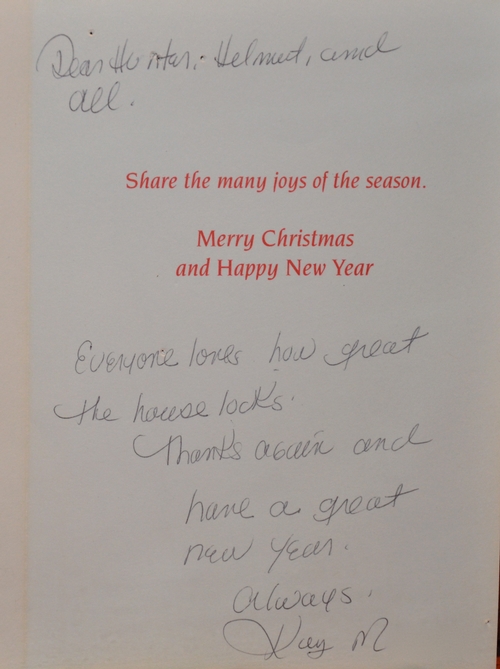 "Everyone loves how great the house looks. Thanks again and have a great New Year"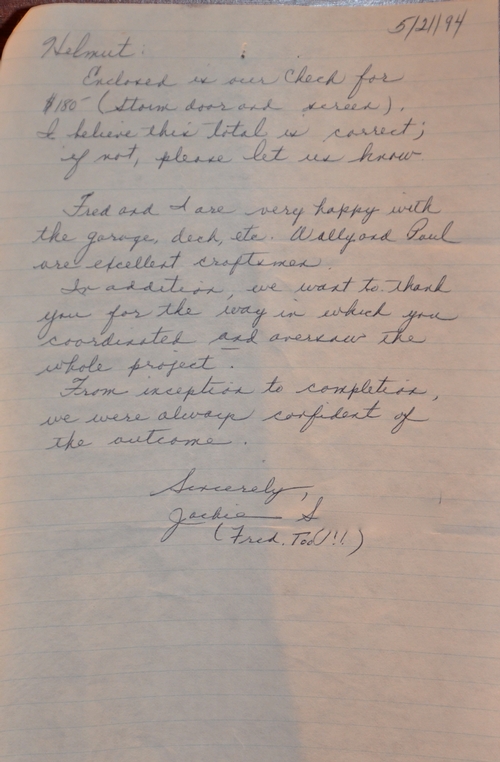 "Fred and I are very happy with the garage, deck, etc. Wally and Paul are excellent craftmen. In addition, we want to thank you for the way in which you coordinated and oversaw the whole project. From inception to completion, we were always confident of the outcome."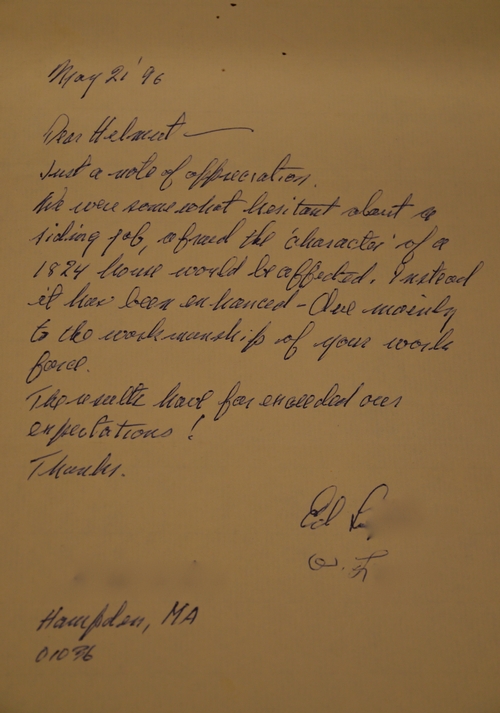 "Just a note of appreciation. We were some what hesitant about a siding job, afraid the character of a 1824 house would be affected. Instead it has been enhanced--due mainly to the workmanship of your work force. The results have far exceeded our expectations!"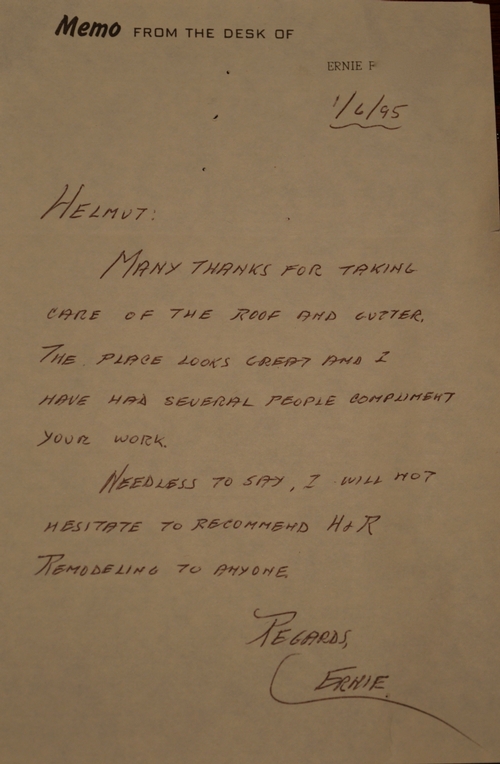 "Many thanks for taking care of the roof and gutter. The place looks great and I have had several people compliment your work. Needless to say, I will not hesitate to recommend H&R Remodeling to anyone."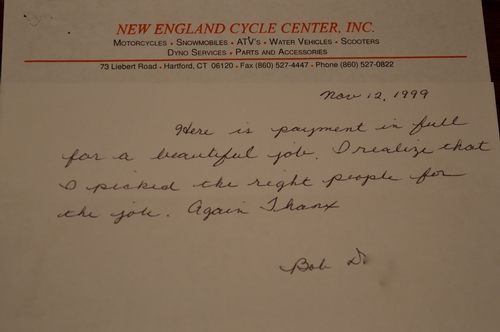 "Here is payment in full for a beautiful job. I realize that I picked the right people for the job. Again thanx."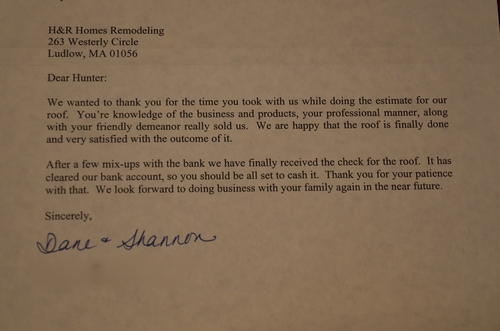 "We wanted to thank you for the time you took with us while doing the estimate for our roof. Your knowledge of the business and products, your professional manner, along with your friendly demeanor really sold us. We are happy that the roof is finally done and very satisfied with the outcome of it. After a few mix-ups with the bank we have finally received the heck for the roof. It has cleared our bank account, so you should be all set to cash it. Thank you for your patience with that. We look forward to doing business with your family again in the near future."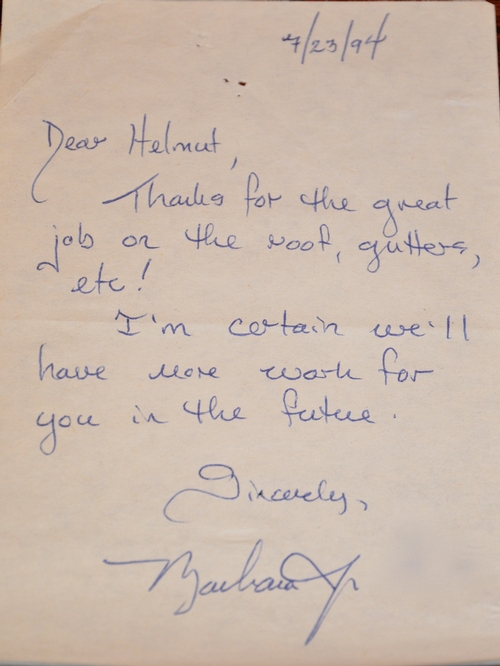 "Thanks for the great job on the roof, gutters, etc! I'm certain we"ll have more work for you in the future."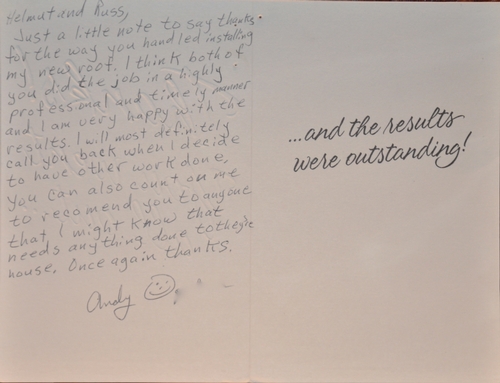 "Just a little note to say thanks for the way you handled installing my new roof. I think both of you did the job in a highly professional and timely manner and I am very happy with the results. I will most definitely call you back when I decide to have other work done. You can count on me to recommend you to anyone that I might know that needs anything done to their house. Once again thanks."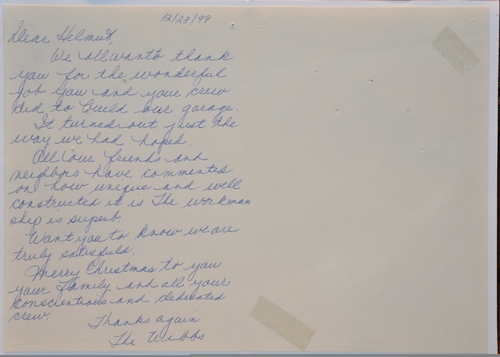 "We all want to thank you for the wonderful job you and your crew did to build our garage. It turned out just the way we had hoped. All of our friends and neighbors have commented on how unique and well constructed it is. The workmenship is superb. Want you to know we are truly satisfied. Merry Christmas to you, your family and all your conscientious and dedicated crew."


"We wanted to be sure to let you know how much we love our new room! Honestly, we were very apprehensive about the whole process of an addition, the mess, the disruption to our existing living space, and so on. However, you really did make everything go very smoothly. The quality of your work is exceptional, and you even were ahead of schedule. Again, thank you so much."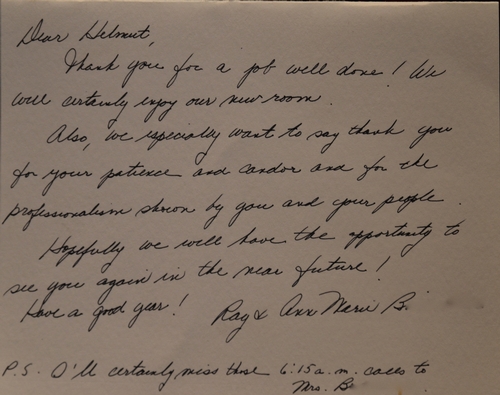 "Thank you for a job well done! We will certainly enjoy our new room. Also, we especially want to say thank you for your patience and candor and for the professionalism shown by you and your people. Hopefully, we will have the opportunity to see you again in the near future! Have a good year!"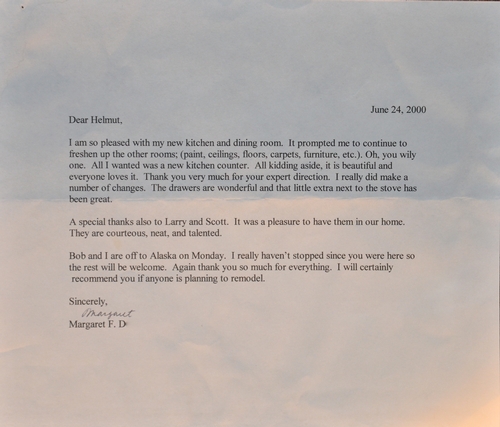 "I am so pleased with my new kitchen and dining room. It prompted me to continue to freshen up the other rooms; (paint, ceiling, floors, carpets, furniture,etc.). Oh, you wily one. All I wanted was a new kitchen counter. All kidding aside, it is beautiful and everyone loves it. Thank you very much for your expert direction. I really did make a number of changes. The drawers are wonderful and that little extra next to the stove has been great. A special thanks also to Larry and Scott. It was a pleasure to have them in our home. They are courteous, neat and talented. Bob and I are off to Alaska on Monday. I really haven't stopped since you were here so the rest will be welcome. Again thank you so much for everything. I will certainly recommend you if anyone is planning to remodel."